Northern Virginia & DC 2020 Market Predictions
[Update post-COVID19] The summer and fall market rebounded faster than anyone could have imagined. In March & April during the height of the spring market when COVID hit hard. Usually the hottest time of the year turned into a difficult time for home sellers. As the governors demanded lockdowns the real estate market stood still. It was not long after we noticed new listings drying up and home buyer demand sky rocketing. The number of buyers looking to take advantage of the low interest rates increased. Home prices went up with it. 
Good news and bad news for the 2020 northern Virginia real estate market.
First the good: Mortgage Rates are at all time low and Tech jobs are coming to the area!
The northern Virginia will see a higher than average job growth rate. This will attract more people and over the long term help out real estate values. 
Government jobs tend to be less telework friendly as private sector jobs so people are less likely to be moving out of the area.
Mortgage Rates:
Rates are expected to stay very low until the end of 2020. With the country rebounding from the pandemic the government will keep the money flowing by providing lower rates to borrowers. Today's rates are hovering just under 3.00% for a 30 year fixed rate. The lowest mortgage rates on record in the United States was set this year.
It is possible mortgage rates set another record low in 2021. This trend should continue for the entire year but after 2021, expect to see rates start to slowing creep up again as the economy recovers. 
Tech Jobs:
The northern Virginia area already has a large demand for government contractor jobs. The number of jobs are expected to grow in the next 5+ years. In addition, a lot of new tech are jobs coming to the area. Amazon, Google, Apple have all announced plans to create more high earning jobs in the area.
The most notable one being Amazon HQ2 announced to open in Crystal City. Bring with it thousands of high paying jobs that will boost the local economy. Real estate prices within a few blocks of the location have already seen an upwards of a 20% increase in value in just months of the announcement.
The Bad news for home buyers: COVID-19 caused an extremely low number of homes for sale. 
With a COVID stay at home order you would think the real estate market would take a hit but it didn't. The market has been strong throughout this pandemic. Now half way through 2020 we are seeing a surging of home sales to make up for any buyers or sellers that were on the fence in the spring. 
The extremely low number of homes for sales is a concern for most home buyers trying to find the perfect home. Prices are going up so buyers are limited on time to find a place before being priced out of the market.
This is one of the rarest times, when it's great to be a home buyer and a home seller at the same time. Buyers are enjoying super low rates and monthly payments, while sellers are getting top dollar. 
Every year we know the spring market is when the real estate market really starts to heat up. This year was different. Instead, this year we will see a strong end of the summer and into the end of the year. With spring 2021 rebounding completely nationwide.  
Search local homes for sale here.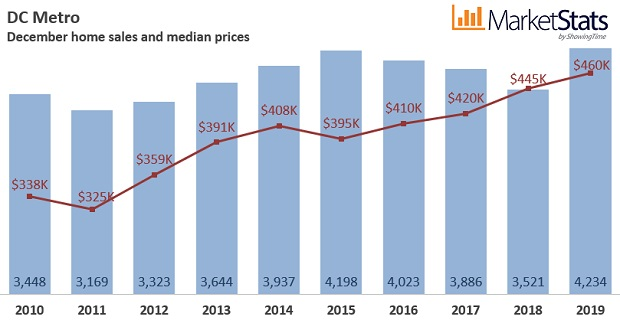 I'm predicting this spring 2021 to be the hottest real estate market ever in northern Virginia! 
Many factors will contribute to next year's hot market.    
Lowest inventory of existing homes for sale since 1983. This has caused values to jump up 3.4% in the DC Metro area from 2019.
 Inventory is roughly half as much as it was last year at this time. 
Builder housing starts jumped to a 13 year high in the start of 2020. New housing construction takes years to develop and can't stop once they started. We will see more inventory of new homes in the next couple years.
Interested in finding out how much your home went up in 2020? Find out now
Do we have a housing crisis coming? Think again… 53.8% of homes have at least 50% equity.
In 2008, that number was very different. Oversupply and outrageous loan terms lead to a housing crash last time. Today, that is not the case.
Right now we don't have enough homes on the market with ultra low inventory. Most sellers have a lot of equity to sell and buy a new home. 
The COVID-19 crises is causing different challenges from what we faced in 2008. We know housing is in a much stronger position today than it was in 2008.
If you had planned to sell your home this year don't rule that out! Stay informed about your home's value. The real estate market is local and is different in every city and in every zip code.
Find out now what your home is worth: novahomevalues.net