Northern Virginia 2019 Predictions
There's some good news and there's some bad news.
First, the good: Tech jobs are coming to Northern Virginia!
West coast tech companies such as Amazon and Apple are planning to set up east coast headquarters in our area. This will greatly increase the number of jobs, estimated to add over 50,000 new high paying jobs in the next few years. That is huge for real estate values.
Amazon HQ2 has already been announced coming to Crystal City, located adjacent to the Whole Foods that Amazon already owns. With demand for housing and commercial space, prices are expected to skyrocket this year. Existing homes within a few blocks of National Landing will see immediate increase in value, while the general area will also see a considerable boost.
The day HQ2 was announced two active high-end condo listings immediately increased their list price by 30k. With anticipation of higher demand for real estate we might see record breaking price increases in 2019 for the National Landing area.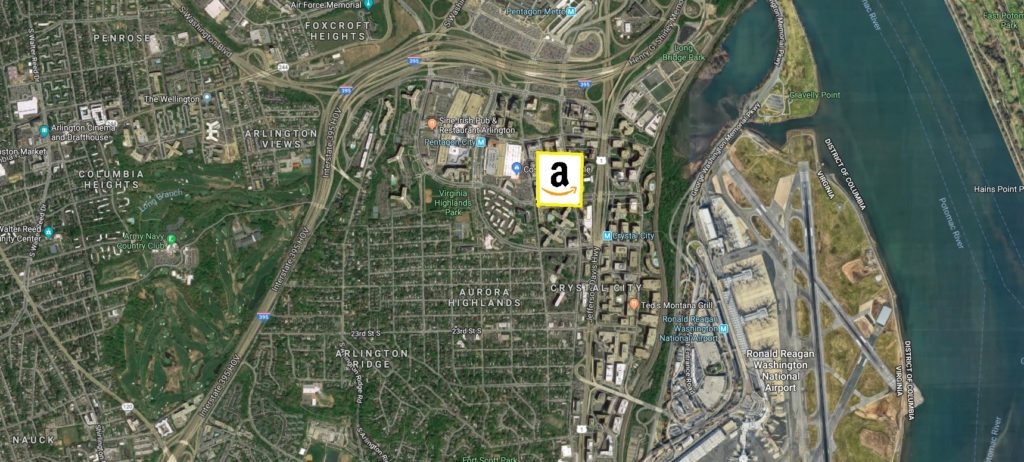 The good news is there are plenty of reasons to be optimistic about job growth in the Northern Virginia area. The housing market should continue to be strong in our area even when prices nationwide start to soften.
At an Apex Home Loans sponsored talk, Terry L. Clower, PH.D. with the Center for Regional Analysis at George Mason University provided us with a positive economic outlook for our area. The graph below is credit to their great work.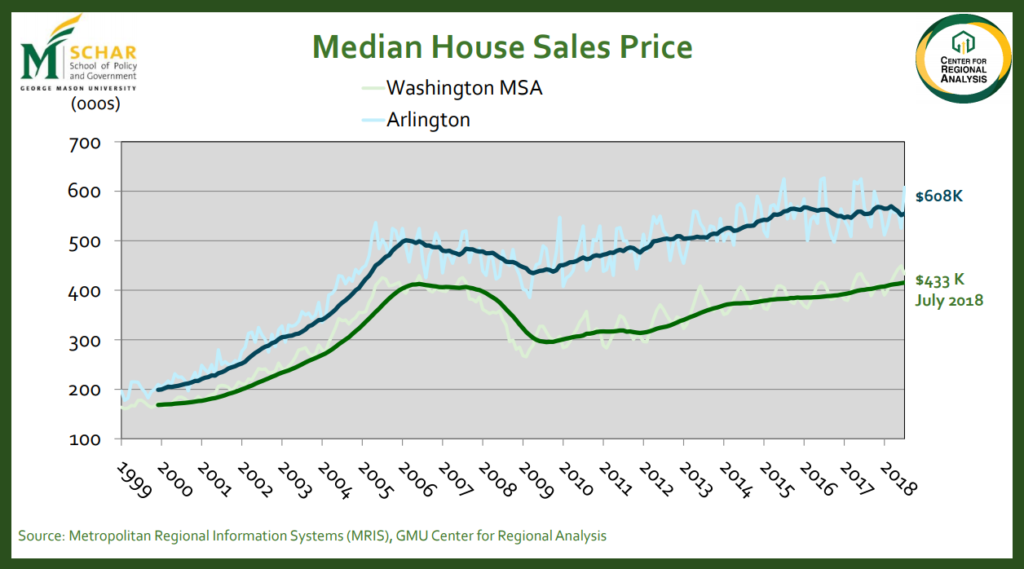 Home prices continue to rise. Our Northern Virginia – DC Metro area has seen significant price increases since 2009. We have record breaking home values and expect to see 1-3% increase year after year going forward.
The Bad news: Interest rates continue to climb higher
The cost of buying a home is going up and it is not just the price. When rates go up they increase the monthly payments significantly. Rates affect buying power much more than just price appreciation.
We started the year with interest rates at 4%. Now the average 30 fixed mortgage is 5%, that is about a 10% increase in monthly payments!
The Fed is warning that rates will continue to increase in 2019. There are strong economic indicators saying the economy is doing well.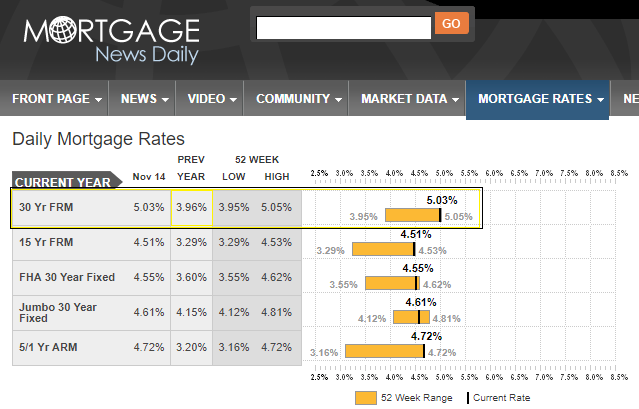 According to Mortgage News Daily, the leader in housing news, rates are expected to keep increasing into 2019.
The graph above shows rates have increased significantly from last year. The economic consensus is rates will continue to rise at the same rate next year, indicating 6% mortgage rates are coming very soon!
We ended the year with low inventory again. In general, a market under 6% absorption rate is considered a seller's market, or a fast moving market.
The absorption rate shows how many months of homes are on the market. It is a leading indicator of where the market is going. The numbers are red hot!
Let's take a look at the numbers: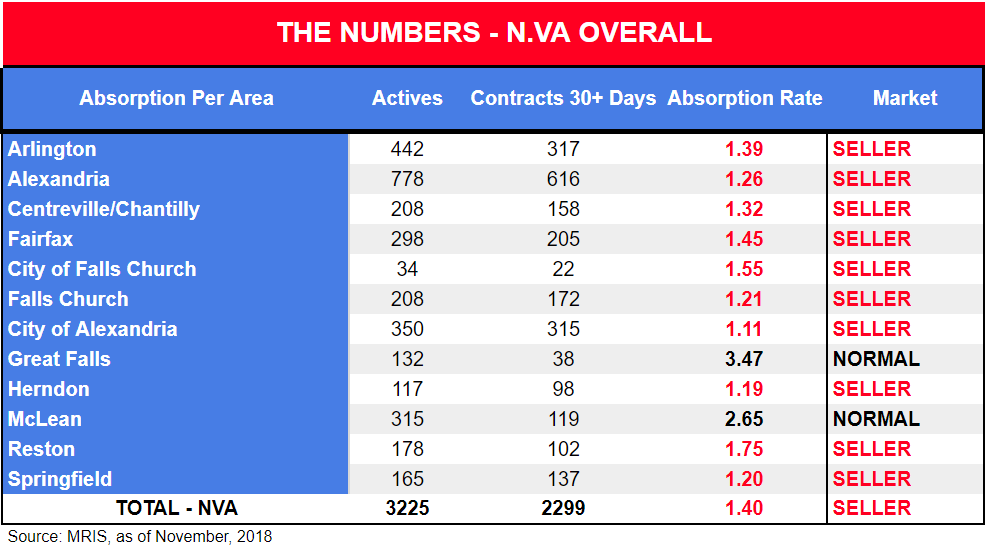 Credit to Bright MLS for the local housing stats in Northern Virginia.
Home prices are at record highs. For our area rates are the only concern that could slow the market. We will see prices decrease in some areas of the country but Northern Virginia's strong job growth should keep prices rising.
If you'd like to get an idea of what your home is currently worth, fill out this form for all Northern Virginia & DC Metro homes: Enter your home address to find out what your home is currently worth
And if you're looking to buy, there are two things you should know.
First, mortgage rates are expected to go up, they are still historically very low, and worth taking advantage of. The average mortgage rate over the past 50 years is 7%.
Second, inventory is starting to come back and buyers will find it easier to find the home of their dreams.
It's definitely worth investigating what's available around Northern Virginia & DC right now.
Check here for all available Northern Virginia and DC Metro homes for sale
When ready to find your Realtor to sell your home, take a look at Our Marketing and how we sell your home faster and for more.
And if you want to talk shop about where the real estate might be going in the coming months, give me a call at 571-339-9717. I'm happy to help. -Kevin Bailey