Northern Virginia 2018 Predictions
There's some good news and there's some bad news.
First, the good: mortgage rates have remained low for the past year.
We started the year with interest rates at 4%. They dipped to as low as 3.73% in September and as of December 2017, they are at 3.81%.
Economists are saying the current low rates are not likely to continue. With each Fed meeting rates are expected to increase.
At an Apex Home Loans sponsored talk, Terry L. Clower, PH.D. with the Center for Regional Analysis at George Mason University provided us with a positive economic outlook for our area.
The graph below is credit to their great work.
The good news is that there are plenty of reasons to be optimistic down the line.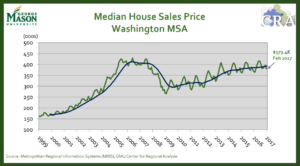 Our Northern Virginia – DC Metro area has seen significant price increases since 2009. We have almost rebounded back to 2005-2006 prices. We should expect to see 1-3% increase year over year going forward.
The bad news is there is still plenty of uncertainty over the tax bill.
The questions about the mortgage interest deduction and the tax plan have come up a lot.
Tax savings is just 1 of many benefits to owning a primary residence. As of now your tax benefit to purchasing a home is only what's above the standard deduction.
Today only 21% of tax returns use the mortgage interest deduction because most homeowners don't have enough deductions to file an itemized return (surprising I know my source was CNBC here's the link https://www.cnbc.com/…/tax-reform-plan-cuts-mortgage-intere…). Today about 2 out of every 3 returns claim the standard deduction.
Both the House and Senate's tax plan should increase the standard deduction making it even less likely for a household to file an itemized return.
Today homeowners can deduct interest paid on as much as $1m of mortgage debt. It's looking like it could be reduced to $500k. Homeowner's would still be able to deduct interest on the first $500k of a mortgage. So these changes likely won't affect most people.
[Update: The approved tax plan for 2018 allows mortgage interest deduction on up to $750,000]
The plan also looks like it allows state and local property tax deductions of up to $10,000. The new tax plan would impact high-cost markets and high earners. 
On the other hand, the proposed looser regulation could further stimulate construction and make it easier for the average buyer to obtain a mortgage.
Let's take a look at the numbers…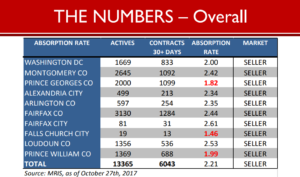 Credit to Bright MRIS for the local housing stats.
We end the year with record low inventory.
In general, a market under 6% absorption rate is considered a seller's market, or a fast market.
The absorption rate shows how many months of homes are on the market. It is a leading indicator of where the market is going. We have been in a fast seller's market for a long time and it is only getting hotter.
Here is what Fairfax County real estate market is doing right now. I'm predicting a seller's market to continue into 2018.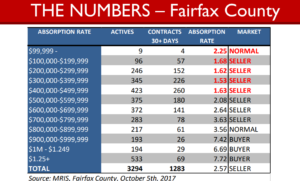 The numbers are showing a red-hot seller's market under 500k. The luxury market 1mil+ has slowed down at the end of the year. This might be because of the proposed tax bill and the uncertainty that it brings.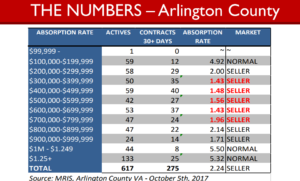 The Arlington County numbers are a little better. A low total absorption rate of only 2.24 months (lower the better). Homes in Arlington move quickly!
It's a great time to take advantage of this if you are selling.
Home prices are near record highs. If you'd like to get an idea of what your home is currently worth, fill out this form for all Northern Virginia & DC Metro homes:
Enter your home address to find out what your home is currently worth
And if you're looking to buy, there are two things you should know.
First, mortgage rates are expected to go up, they are still historically very low, and worth taking advantage of. Every 1% increase in mortgage rates equates to a 10% decrease in purchasing power.
Second, inventory is starting to come back and buyers will find it easier to find the home of their dreams.
It's definitely worth investigating what's available around Northern Virginia & DC right now.
Check here for all available Northern Virginia and DC Metro homes for sale
When ready to find your Realtor to sell your home, take a look at Our Marketing and how we sell your home faster and for more.
And if you want to talk about where the real estate might be going in the coming months, give me a call at 571-339-9717. I'm here to help.